article February 7, 2022
CTNs: Focusing on Patients While Connecting All Stakeholders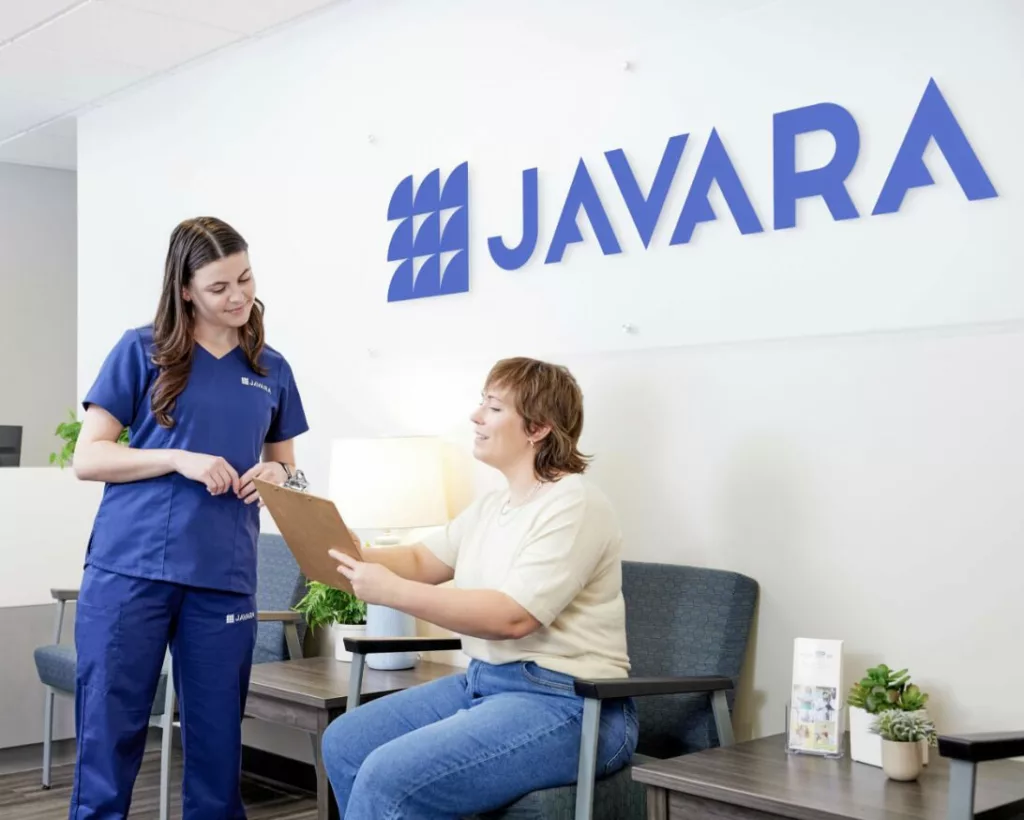 In a reimagined approach to clinical trials, Javara CTNs are the cornerstone of the integrated clinical research model.
At Javara, we know that patients are the heartbeat of successful clinical research—their positive experience is the key that unlocks crucial enrollment and retention opportunities.  Putting patients' needs at the center of the process, Javara takes a holistic approach to patient care not only during their clinical trial journey but well beyond, an integrated solution that is essential for ensuring both effective, efficient research that delivers high-quality data and enhanced patient care.
Javara, a pioneer of Clinical Research as a Care Option (CRAACO), provides clinical research access at the point of care in local communities by embedding site staff and infrastructure into large healthcare organizations. This unique model means clinical trials are offered on the menu of care options for more patients, while also providing sponsors with access to broad diverse patient populations through their trusted physician. While there are multiple components that make the Javara model an innovative solution for all stakeholders, the role of the Clinical Trial Navigator (CTN) – a term unique to Javara – is the cornerstone of this success. While these individuals perform multiple essential functions of conducting clinical trials, they also provide a constant and reassuring connection between patients, investigators, sponsors and CROs. By taking a holistic approach to patient care, Javara CTNs are able to deliver a more comprehensive – and in turn positive and impactful – patient experience.
TOTAL HEALTHCARE EXPERIENCE FOR PATIENTS
Javara CTNs take a holistic view and focus on the patient's complete health and well-being—within the study and beyond— ensuring a positive healthcare experience. Evidence of this is seen in the 95.12 overall mean score for patient satisfaction from Javara surveys and the 96% retention rate. Also, 90% of patients surveyed say they would participate in another trial.
Because CTNs assist in coordinating truly personalized care, patients develop an even deeper relationship with their trusted physician. This results in enhanced confidence in the provider and the healthcare organization. These are benefits that extend beyond the scope of the trial.
"As someone who both has a chronic condition and has participated in clinical research, I have a unique understanding of what our patients need to feel comfortable as well as what it is like being part of a trial," says Javara CTN Dana Robinson. "We are patients' first point of contact, explaining to them the details of the trial and what the research is trying to achieve, taking medical histories, and reviewing informed consent." Dana is not only a patient and a former participant, but she is also a nurse, giving her a breadth of experience and insight.
CTNs run tests, do lab work, and keep track of study data among many other responsibilities including follow-ups with patients and all the oversight necessary to ensure they are well taken care of.
"At patient visits, we monitor their total health—as the first to see lab results, we have the necessary conversations regarding those findings, regardless of whether or not they are relevant to the study," Dana said. "We provide a constant connection to the physician for our participants and put their health and safety first."
If patients have difficulty getting to appointments, CTNs can arrange transportation. For some trials, they can even do home visits. "No matter what, we are always available to our patients to answer any questions or concerns," she added.
It is this coordinated personal care that extends beyond the scope of the trial which sets Javara CTNs apart. They stay in close contact and repeatedly check to see that they are doing well and their health concerns have been addressed, not only during the clinical trial but over the long term," Dana shared. This includes everything from helping them schedule appointments to ensuring they stay current with their medications and vaccinations.
"We want our patients to know that even once they are outside of the clinical trial, we continue to track their health and will assist them in getting the care they need," Dana explains. "We will help support them regardless of what their healthcare journey entails."
KEY SUPPORT FOR INVESTIGATORS, LIASION WITH SPONSORS AND CROS
In addition to comprehensive patient care, CTNs also provide immense value by taking the stress off the healthcare organization and the physician investigators. Their role is critical in maximizing collaboration within the clinic, providing the necessary training and support for seasoned and emerging investigators alike.
"The amount of support the sub investigators and I get, it's pretty incredible," says Tina Kennelly, MD, Director of Research at Tryon Medical Partners in Charlotte, NC. "Whether it's a large vaccine trial or a smaller hypertension trial that's only enrolling a few patients, Javara and the CTNs have really helped us with our research goals."
CTNs are the connection between the investigators and sponsors/CROs, ensuring both are comfortable and have complete confidence in the research process and objectives. A Duke University/FDA study on investigator retention revealed a 54% turnover rate;1 while 98% of Javara investigators have remained in research.
"We are the first to know about changes to protocol or any type of amendment, as most clinical trials do change throughout the life of the trial. We strive to make sure that we are able to deliver accurate, high-quality information to our sponsors," Dana said.
CONCLUSION
Through partnerships with large healthcare organizations at the community level, Javara's experienced CTNs are able to fully integrate with physicians and clinical staff at the point of care. They collaborate with both emerging and experienced investigators who are committed to research, highly engaged, and seeking the best outcomes for their patients by providing clinical research as a care option.
Under the guidance of Javara's immensely qualified and dedicated CTNs, clinical research can flourish. "It's critically important that we be able to bridge patient care with the study and sponsors' needs. With 30 years overall in the medical field, I have learned how to marry and balance these priorities," said Dana.
Corneli A, Pierre C, Hinkley T, et al. One and done: Reasons principal investigators conduct only one FDA-regulated drug trial. Contemp Clin Trials Commun. 2017;6:31-38. doi: 10.1016/j.conctc.2017.02.009. eCollection.