blog October 27, 2022
Life-changing breast cancer trial: One patient's story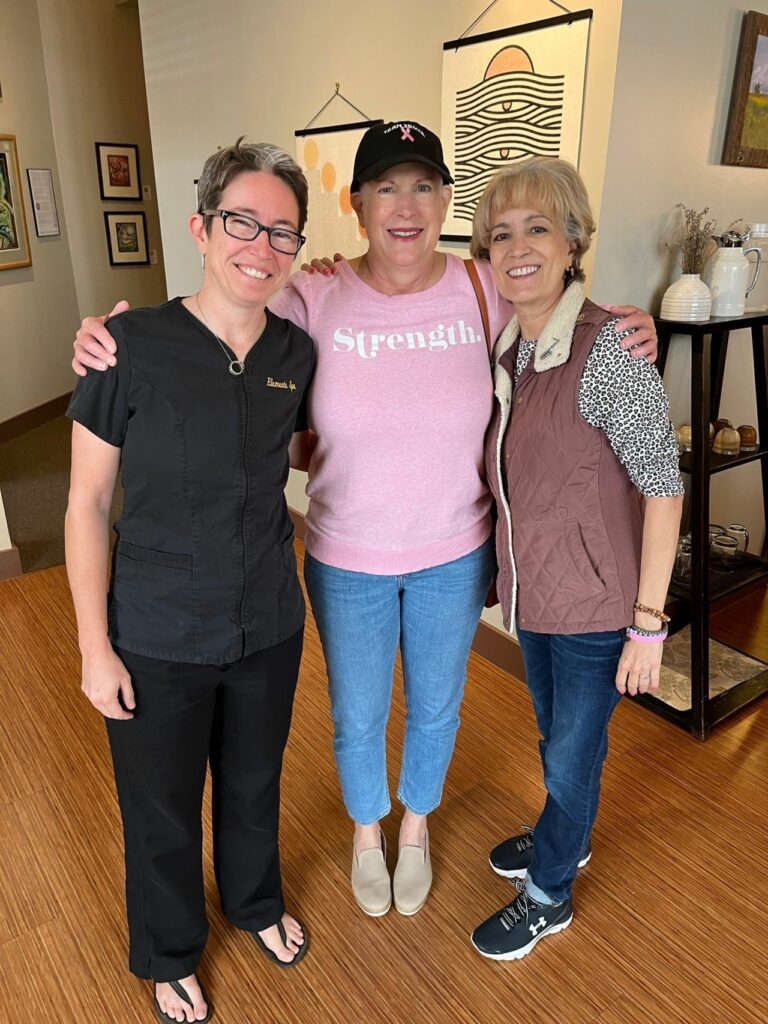 It was late morning on January 19th, 2022. Tricia Mercaldo was at her desk, talking with a work colleague, a cup of coffee in hand – a routine day, albeit that a new furry friend, Harry, would be coming home from the Humane Society later that afternoon.
And then the phone rang. "I put them on hold while I received the news," Tricia explained. "After that, all plans went on pause so I could sort out my emotions and the depth of the news." An annual mammogram the month before had revealed a small, and largely unexpected, tumor. That phone call on January 19th revealed the diagnosis: a rare and aggressive form of breast cancer known as triple negative lobular carcinoma.
As a professional in the clinical research industry – Tricia is Javara's Senior Director of IT Solutions Delivery and Client Services – and after receiving a harsh treatment plan that lacked both clarity and confidence from those who prescribed it, Tricia turned outward. She sought insight and guidance from friends and other clinical research experts. Speaking of one friend and colleague in particular, Tricia recalled, "she told me, 'Don't settle. Find oncologists that know about your kind of cancer.'"
Seeking such support beyond her general oncologist and primary care physician, Tricia scheduled consultations with not one but two additional oncologists – both involved with clinical trials studying triple negative lobular carcinoma. A rare form of breast cancer, TNBC accounts for approximately 10-15% of all breast cancer diagnoses, according to Cancer.org. It is most common in women of color, women with the BRCA1 mutation, and women under 40. Tricia is white, in her 50s, and without the BRCA1 mutation; the doctors all told her she was an anomaly.
It was with one of the two new oncologists that Tricia received an alternative care option. "She was a genius," said Tricia, "she said no, no, no. We're going to do something totally different."
There was a clinical trial known as KEYNOTE 522, where Keytruda was added to the chemotherapy and taken in a non-traditional order. "I remember she looked at me and she said, 'this plan leads to a cure. It's not just going to lead to remission; it actually leads to a cure.'"
A cure. That one word changed everything for Tricia; it gave her hope, and it gave purpose to the pain and suffering of the treatment itself. Her biggest piece of advice when searching for that one word that just might change everything? "Ask all the questions. There are no dumb questions. This is your life. Question everything."
Based on the successful outcomes of this recent clinical trial and as a result of this oncologist's understanding of such a rare and specific type of breast cancer, Tricia was provided with an innovative treatment plan that would not otherwise have been available. "It was all because of her knowledge of this clinical trial; of watching it work for other women with situations very similar to mine," said Tricia.
While not personally a participant in the KEYNOTE 522 study, it is because of that trial that Tricia's care options were more advanced than they would have otherwise been, and her gratitude for those directly involved runs extremely deep. "Their actions are changing lives; their actions changed mine."
Though Tricia's journey is now under the care of only one of the two initially sought-after specialists, she continues to find immense comfort in knowing that both were involved in clinical research for TNBC and agreed on this innovative treatment plan. "It is really reassuring knowing they are in alignment. I know that I am on the right path," she explained. Given Tricia's unique case – falling outside all three major criteria for triple-negative breast cancer – her oncologists are monitoring her treatment especially close in hopes of learning more about the condition and those affected. Tricia is also a case study for breast cancer in general – "We talk about you every week," one oncologist told her.
When asked if she was hesitant in any way to pursue this new treatment option knowing it was the result of such a recent study, Tricia shared: "I did a lot of research; about the study and the results. Hearing real stories about real patients…they were all just so happy."
Obtaining a second opinion from a doctor knowledgeable about your specific condition is one of Tricia's biggest takeaways from her patient experience to date. Speaking of general oncologists and members of her care team not specialized in her type of breast cancer, she said, "They were all wonderful, and brilliant. But they were not familiar with TNBC. Had I not sought out alternate opinions, my journey – and outcome – would have been much different." It is her hope that more and more doctors will keep up with ongoing clinical trials, and direct patients to information on how to find trials and research opportunities.
"It was a successful clinical trial, and the results changed my life."
***
At the time of writing, Tricia has officially finished chemotherapy – hopefully forever. She is doing well and continues to persevere on her road to recovery.
To see a full list of clinical trials available across the nation, visit clinicaltrials.gov, or search Javara clinical trials here.