article June 6, 2023
The Power of Physician-To-Physician Recruitment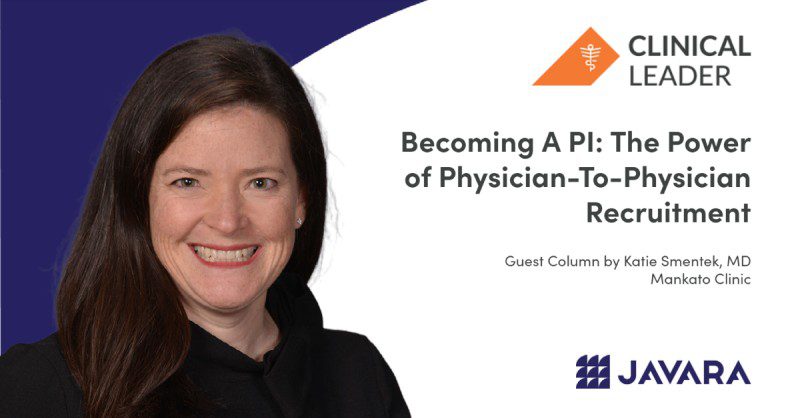 In this exciting Clinical Leader article, Dr. Smentek shares her first-hand account of the power of clinical trials and the often-undervalued impact of physician-to-physician collaboration. Katie Smentek, MD, was Mankato Clinic's first clinical research principal investigator.
In the article, Dr. Katie Smentek shares her insights on the power of physician-to-physician recruitment in the context of clinical research. She highlights the advantages of embedding clinical trials in healthcare facilities, particularly in underserved areas like Mankato, MN, where patients would otherwise have to travel long distances to access cutting-edge treatments. Clinical trials not only provide these patients with access to innovative therapies but also offer valuable options for those who have limited or no insurance coverage.
Having completed her residency at Yale-New Haven Children's Hospital, where research was highly valued, Dr. Smentek felt a strong urge to continue her engagement in research when she returned to her small hometown. Overcoming initial nervousness, she wholeheartedly embraced the chance to integrate research into her practice, and the experience proved to be incredibly fulfilling.
Dr. Smentek emphasizes the significance of physician recruitment in clinical trials, highlighting the trust and understanding that exists among colleagues. As the first PI in her group, she has become a mentor and spokesperson for the program, sharing her experiences and guiding fellow physicians in understanding the commitments and rewards of being a PI. She also takes on the role of promoting trials and creating awareness among other physicians, encouraging them to refer eligible patients and consider the benefits of participating as investigators.
The article underscores the significance of trust-building, support provision, and community awareness to foster acceptance and active engagement among healthcare professionals in the realm of clinical trials. Dr. Smentek's experience highlights the transformative impact of physician-to-physician recruitment in clinical research. Integrating research into their practice enables physicians to offer patients innovative treatments, advance medical knowledge, and find personal fulfillment.