Case Study June 17, 2020
Javara COVID-19 Research Partnership Case Study
COVID-19: Global Pandemic
The virus now known as the severe acute respiratory syndrome coronavirus 2 (SARS-CoV-2) has caused a global pandemic leaving many people at risk of contracting the virus that can lead to potential illness or death. With little known about (SARS-CoV-2) and the disease it causes called coronavirus disease 2019 (COVID-19) it rapidly spread across the world, shutting down the worlds economy and developing into a  global health emergency.  In order to combat the spread it is of key importance to understand the prevalence, infection patterns and progression of   COVID-19 in the population.
Wake Forest COVID-19 Community Research Partnership Project
This study surveys patients within the Wake Forest Baptist Health (WFBH) system to identify whether they have come into contact with the SARS-CoV-2 virus. Through a daily survey that they will answer for 12 months, participants report on their health, noting any symptoms they have potentially linked to the virus. A small group of participants will receive serosurveillance test kits. These participants will complete a finger prick test and send in their blood sample to test whether they have SARS-CoV-2 antibodies.
Introduction
In mid-March 2020, the research community sought to discover means to help solve the health challenges surrounding this little-known virus. Around the same time, Javara was contacted by Oracle about its  Therapeutic Learning System (TLS). Oracle created this tool to help identify and diagnose illness in patients. Soon after, Javara learned of WFBH's interest in creating an epidemiology study for public serosurveillance testing. The Javara team immediately began brainstorming how these two concepts could come together, since these organizations and their missions would make a strong fit.  Javara introduced WFBH and Oracle to one another, and Scanwell was also later brought into the discussion. Soon, Javara,  Oracle, WFBH,  and Scanwell all entered into a commitment to the collaboration.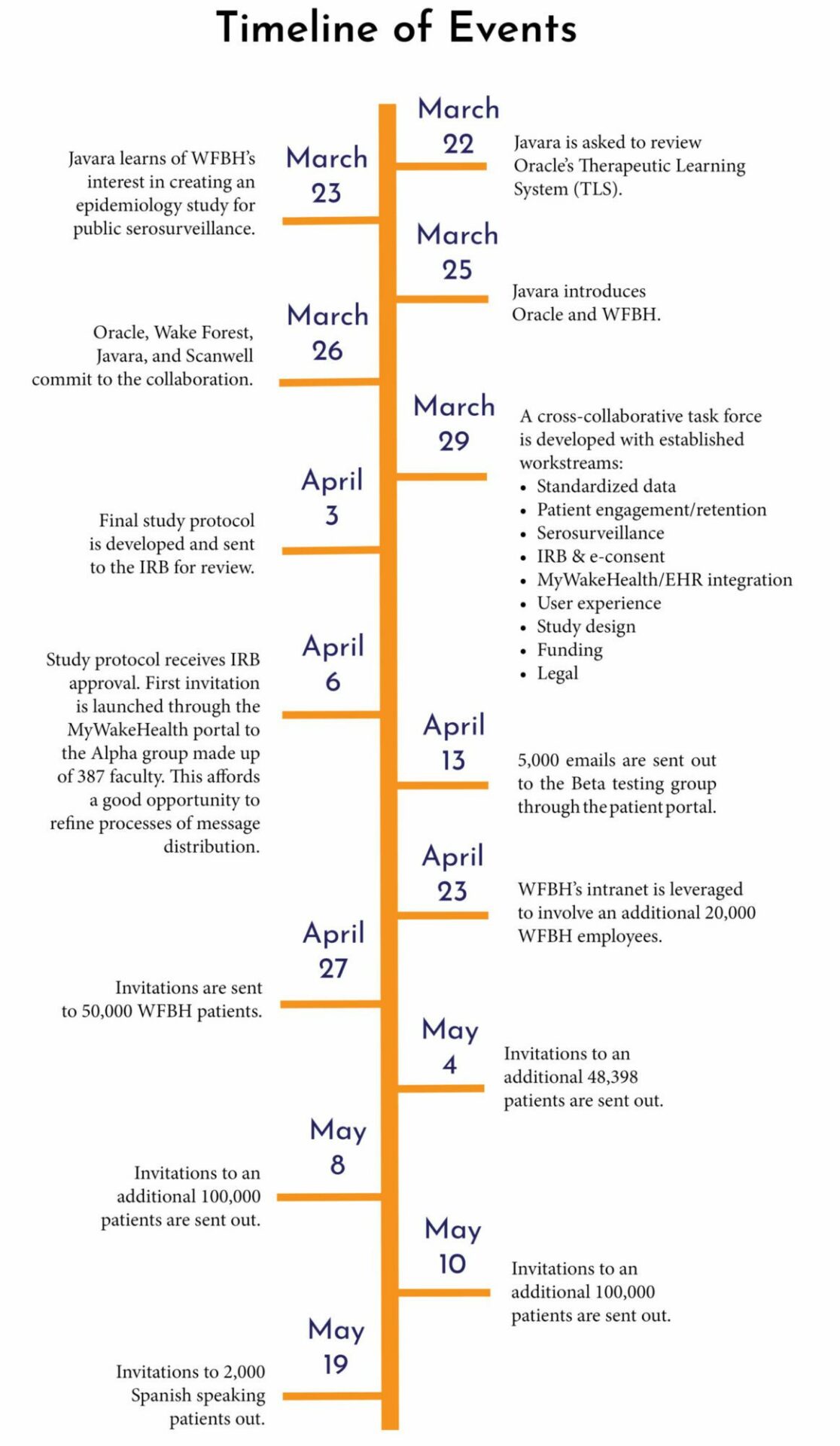 Each organization played a different role in the study. Oracle's role was to oversee the study's technology operation. WFBH contributed by leading the study design process through its PIs and a call center for patients. Javara, an expert in clinical trial conduct, oversaw the logistics of the study between all parties, ensuring all aspects integrated smoothly. Scanwell produced at-home test kits for study participants.
Together, these organizations were poised to make an impact on public health through the creation of a  surveillance study, which included WFBH staff and was open to participation to all WFBH patients. In the early days of this project, a cross-collaborative task force was developed with established workstreams to help drive the project's efficiency. The workflows included standardized data, patient engagement and retention, and serosurveillance workstreams. Within a 3-week period of time, the team went from a  concept to reality—including an IRB approved study protocol and a call center for patients. The effort was tedious and took a tremendous amount of teamwork, but the mission motivated the team.  In an urgent matter like a  global pandemic,  every second counts,  so time was of the essence.
On April 6, the study was launched to the Alpha group, consisting of 387 Wake Forest faculty members. It was soon after expanded to patient and employee populations via the MyWakeHealth patient portal.  Invitations  to  100,000  patients were then  sent out—half on  April  27  and another half on  May 4.
"The formation of our cross-functional teams that incorporate technology, labs, a central point of organization, and a health care system is key to this collaborative effort. People are not working in silos; they are be- ing united by this cross-company, cross-functional effort." – Jennifer Byrne, CEO, Javara

"We are applying basic epidemiologic techniques, taking advantage of the existing health systems to be able to get this sort of data. We have to have citizens step up and help us in tracking the disease, following how we're doing as the disease evolves and as public policy decisions are made that might impact rates one way or another."- John Sanders, MD Chief of Infectious Disease, Wake Forest Baptist Health
Eliminated Challenges & Barriers
The team worked diligently to launch this project, but challenges arose along the way. Four organizations with various workflows and functions had joined forces and needed to effectively and efficiently collaborate.  Each had its own operating procedures and departmental structures to be navigated. For example, although  Javara was experienced in quickly delegating tasks internally, WFBH found it much more challenging to move quickly because of the sheer magnitude of the much larger multi-department organization. Efficient delegation and follow-up made a huge difference in how quickly information was approved and processed.  Each organization had to ensure that they were united in their efforts so as to avoid miscommunication or delay. Yet the real challenge of this collaboration was the constantly ticking clock. Each organization was under pressure to achieve its designated responsibilities in order to ensure the study startup activities were not slowed.  This project was built with many essential moving parts, each of which had to be managed on a daily basis to ensure the project moved along and achieved its mission of gathering data about the spread of COVID-19.
What is Ahead
This research study will significantly impact the information collected about  COVID-19. "By allowing healthcare systems to collect this real-world data throughout the United States, this will allow policy makers, state officials,  healthcare administrators identify early warning signs of potential COVID-19  flareups, make more informed decisions around the safest time to reopen communities and where to enforce contract tracing", says Kathy Vandebelt of  Oracle. The goal is that many will have the opportunity to participate in this study throughout WFBH. As of May 27, 2020, there have been 4,726 cases and  135 deaths attributable to COVID-19 in the 13 counties WFBH serves. As of that date, there have also been 5,011 patients who consented to study participation as well as 13,710 patients who are actively participating in the study.
"Oracle has built the COVID-19 platform and donated it to the US government. Parties using  the platform are interested in lessening or preventing the imminent threats to health posed by the COVID-19 pandemic and all data is available to be used to carry out initiatives of government agencies as directed by the Human and Health Services." -Kathy Vandebelt, Global Head Clinical Innovation, Oracle
Javara is an Integrated Research Organization (IRO) that is driven to change the clinical research experience and expand access to clinical trials—for both providers and patients. Javara delivers first-class clinical research services to healthcare organizations by providing the infrastructure necessary to successfully conduct trials.

The Oracle Cloud offers a complete suite of integrated applications for Sales, Service, Marketing, Human Resources, Finance, Supply Chain and Manufacturing, plus Highly-Automated and Secure Generation 2 Infrastructure featuring the Oracle Autonomous Database.

Scanwell is the producer of a serosurveillance digital testing platform that allows patients to scan a test strip with their specimens on their smartphone and instantly upload the data to receive test results for various medical conditions.
Wake Forest Baptist Health is a health system based in Winston-Salem,    North    Carolina. WFBH's integrated clinical system is anchored by Wake Forest Baptist Medical Center, an 885-bed tertiary-care hospital in  Winston-Salem, and also includes Brenner Children's Hospital, five community hospitals, more than 350 primary and specialty care locations, and more than 2,500 physicians. It also includes  Wake Forest  School of  Medicine, a recognized leader in experiential medical education and groundbreaking research that includes Wake Forest Innovations, a commercialization enterprise focused on advancing health care through new medical technologies and biomedical discovery.