article March 23, 2022
Emerging Investigators Share Their Clinical Research Journeys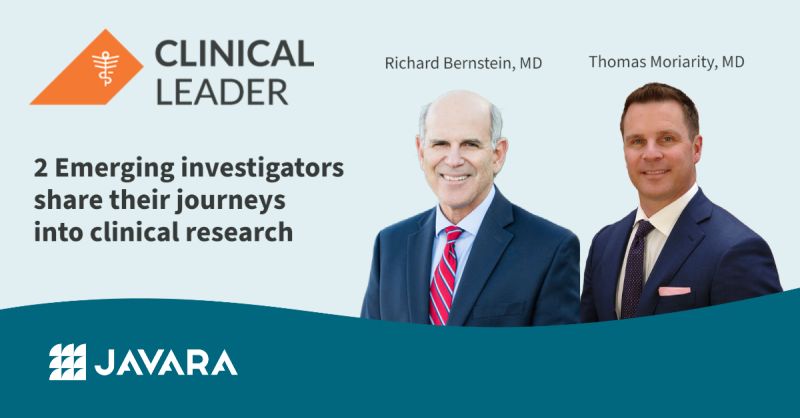 In this recent Clinical Leader article, Richard Bernstein, MD and Thomas Moriarty, MD, both of Privia Health, share about their personal journeys in clinical research, the training and support they received as emerging investigators, and the impact of clinical research on their patients and practice.
The conversation with Richard Bernstein, MD, and Thomas Moriarity, MD highlight the importance of involving more physicians in clinical research and training the next generation of investigators. They emphasize that introducing patients to clinical research through their trusted providers enhances their healthcare experience and ensures access to all available care options.
The traditional reliance on experienced investigators is not sustainable, and expanding the pool to include newer investigators is crucial. Bernstein and Moriarity, have partnered with Javara, an integrated research organization, to integrate clinical research into their medical practices. Their motivation to get involved in clinical research stems from their desire to stay at the forefront of medical advancements, offer patients access to new treatments, and make a positive impact on the quality of care.
Including newer investigators is critical because patients trust their physicians, and recommendations from their trusted providers hold significant weight. To ensure success, comprehensive training programs and supportive research partners are necessary. The training process for new investigators involves online and in-person training, with resources and support provided to make the experience easier than anticipated.
For success, new investigators require support from research partners, including clinical research staff and infrastructure. Integration of clinical research into busy medical practices should be seamless and accommodate the physician's interests and patient population. The culture and values of the research partner are also crucial, as well as attention to detail and continuous improvement.
Moriarity highlights the rewarding aspect of clinical research, as it can potentially help a large number of people by preventing or treating diseases. Patients value having a physician involved in clinical research, and their feedback has been positive.
The experiences of Bernstein and Moriarity demonstrate the importance of empowering emerging investigators to incorporate clinical research into their practices. Despite being new to research, their positions as trusted community physicians bring valuable experience and insight. With support and mentorship, these physicians can help fill the need for investigators and ensure the development of new innovations while maintaining patient access to clinical care. Clinical research not only improves patient care but also lowers overall costs and provides support to patients who lack access to treatments.
Read the full article here!