article March 29, 2022
How Clinical Research Adds Value to Physician-Owned Practices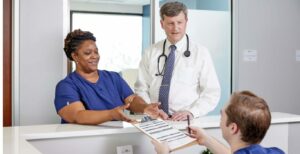 In the face of healthcare challenges, physician-owned medical practices are implementing clinical research to enhance patient care and address the Quadruple Aim. Despite concerns about increased workload, partnering with Integrated Research Organizations (IROs) allows practices to seamlessly integrate research into clinical care and offer groundbreaking therapies to patients. This approach ensures personalized treatment and maintains quality care while addressing patients' medical needs.
Embedding research in the continuum of care
By embedding research in the continuum of care, patient outcomes improve, healthcare spending reduces, and patient engagement increases. Studies have shown that clinical research as a care option enhances patient satisfaction, reduces overall healthcare spending, and improves the quality of care. Physicians also benefit from participating in research, as it fosters lifelong learning, keeps them updated on advancements, and allows them to contribute to medical advancements. Moreover, physicians can choose trials that align with their interests and patients' needs, providing autonomy and professional development opportunities.
Streamlined Processes and Revenue Generation
Physicians appreciate the support provided by IROs, including trial staff and infrastructure, which streamlines the research process. Financially, clinical research generates revenue for physician-owned practices through shared savings and improved quality metrics. By partnering with IROs, practices transfer much of the financial risk and administrative burden, allowing physicians to focus on patient care.
The greatest asset of implementing clinical research in physician-owned practices is the potential contribution to medical advancements. With the increasing number of clinical trials, these practices have an opportunity to shape the future of medicine and build upon their contributions to healthcare.
Overall, despite initial concerns about workload, implementing clinical research in physician-owned practices benefits both patients and the practice itself, ultimately improving patient outcomes, physician engagement, and the potential for medical advancements.
Hear more from Tryon Medical Partners CEO Dale Owen as he shares about the added value that clinical research brings to physician-owned practices. It is a privilege to work alongside Dr. Owen and Kennelly through Javara's partnership with Tryon.
Read the full article here.