blog July 29, 2022
Intern Spotlight: A Two-In-One Summer Experience
Meet Bobby Stratta and Dexter Perkins, two Javara interns with a very unique summer experience: a "dual internship" and the opportunity to work with both the Finance and Operations department. Hear a first-hand account from both Bobby and Dexter below as they share about the value of engaging with multiple areas of the organization simultaneously.
Bobby Stratta
This summer, I have been very fortunate to divide my time as an intern between the Clinical Operations team at Atrium Health Wake Forest Baptist Medical Center and the Finance team at the Javara Headquarters in downtown Winston-Salem. This experience has permitted me to observe the functionality of Javara as an Integrated Research Organization from a multifaceted and all-encompassing point of view, while also allowing me to familiarize myself and build relationships with a substantial number of colleagues who are all dedicated to achieving the goals of the company.
As an undergraduate student on the pre-med track at Wake Forest University, I have found my hands-on training in the clinic to be particularly valuable. For instance, being able to undergo training and obtain skills involving procedures such as phlebotomy and electrocardiography has been an exceptional takeaway and gives me a unique edge compared to other students of my caliber. Additionally, my people skills have improved through repeated practice of proper etiquette when handling patients and simulating discussions like the informed consent process. I would like to personally thank Ashley Moultrie for being a devoted and resourceful supervisor to myself and my fellow interns. I am very grateful for her approach of instructing us as if we were newly hired Clinical Trial Navigators. Although this approach challenged us at times as it began with a lot of online training modules, it has been very beneficial to me as I enter the second half of my time at Javara for the summer.
Meanwhile, my time with the finance team has been a nice change of pace. In addition to just refining my skills in Excel, I have been taught fundamental aspects of accounting and have made many connections across the organization. These experiences have been very eye-opening. I initially did not realize the immense scope of Javara's reach and how wide its presence is nationally. I was pleasantly surprised to find myself meeting team members based out of places as far as Scottsdale, Arizona or the Virgin Islands. As someone who has grown up in Winston-Salem, NC and lived here my entire life, it is very fascinating to hear how others have gotten acquainted with Javara coming from different locations. In addition, my efforts as an intern at Javara are constantly reassured because I get to witness the rapid growth and expansion of the company firsthand. It seems as if I am meeting newly hired team members every week, and this has noticeably reinforced the sentiment that Javara is a great place to be.
Although the clinic and the financial office are very different (more than just having to wear scrubs versus corporate attire), having the privilege to see both departments in action has granted me a unique appreciation for Javara's efforts to fulfill the mission of advancing the implementation of Clinical Research As A Care Option (CRAACO). Whether I am applying payments from sponsors such as Moderna, Pfizer, and AstraZeneca to specific visits for each individual patient or mapping out the official timeframe of screening duration for a study, it has become clear to me that Javara's distinct branches work in unison and their coordinated efforts yield a strong sense of cooperation and interpersonal communication. All in all, Javara has provided me with an incredibly enriching opportunity this summer and I am thankful for the insurmountable generosity I have received along the way.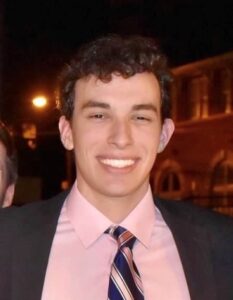 Dexter Perkins
As a Master's in Biomedical Science student at Wake Forest, I am required to complete an internship in my field of study. I was blessed to be selected as an intern at Javara. Javara offers students research experience that will strengthen their skills in developing a career in public health and medicine. At Javara, I am exposed to the practical application of research which provides context to training that I have received in the classroom.
During my time here with Javara, I was given the opportunity to expand my knowledge and to network with both the finance and clinical operations team. My initial clinical training consisted of completing the Navigator Foundation Training. This training gives guidance to the life of a Clinical Trial Navigator (CTN) and upholds the responsibilities of a CTN. While working with the Wake Forest team, I have had the opportunity to become a trained phlebotomist. I also learned to conduct an EKG. This training was exciting and was my first step in clinical training. In addition, I learned the importance of informed consent and documentation. It is important that a CTN operates with diligence and professionalism while maintaining government and organizational regulations. These specific trainings have aided my one-on-one patient skills.
The finance department works diligently to make sure the goals of Javara are met. I collaborated on a few projects with the finance team. One project pertained to screen failures with clinical trials. I learned how to apply payments to a record revenue generator called Clinical Conductor. This project helped me to increase my skills in Microsoft excel. I had limited skills in excel prior to the project. In addition, I developed meaningful relationships and valuable connections that hopefully become lifetime connections.
Learning from these two teams gave me quite different experiences which have expanded my knowledge pertaining to the health field. I have come to learn that on both teams the goals of Javara are held to a high standard and it is a pleasure to work with both teams. Javara has shown the passion and vision to transform the clinical trial experience by accelerating access to research. I am grateful for my supervisor Ashley for dedicating her time and efforts towards the team to make sure we are thoroughly trained as clinical trial navigators.