article June 7, 2023
From 'Brave Spaces' to Battling Bias in Patient Engagement
What does DEI truly mean, and how does it apply to the clinical research space specifically? What does the work of DEI leaders look like? How do we affect real change?
Applied Clinical Trials Magazine recently sat down with Ashley C Moultrie, CCRP, Javara's inaugural director of DEI and community engagement, to better understand her role, Javara's vision for advancement in this area, and how we – as individuals, as an industry, and as a society – must combat the biases that plague our current health care system.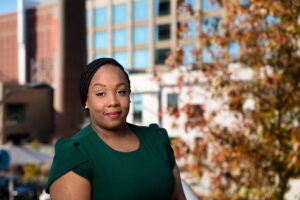 DEI leaders like Ashley play a vital role in driving change within organizations, from creating inclusive policies, promoting diversity in participant recruitment, to collaborating with stakeholders, engaging with communities, and advocating for equitable research practices. Across the industry, individuals in diversity-related leadership positions strive both unravel immense historical bias, and guide us all in rebuilding an industry and society that is just a equitable for all. Addressing disparities in healthcare access and outcomes for marginalized populations is at the heart of Javara's mission, and Ashley's efforts as our inaugural director of DEI and community engagement both enable us to realize this mission while having a greater impact that extends far beyond.
"In the US, current clinical trials do not accurately reflect the American population. While progress has been made, the need for more diversity among patient populations is loud. Without representation, health equity is simply a vision, not an obtainable reality. DEI efforts guide us toward real change. Likewise, engaging with minority physicians with whom patients have an established rapport and direct, personal, or community-based connection is invaluable. Those with the lived experience are those who know best. It is time to let them lead."
As organizations and as an industry, we must commit to DEI as a core value and prioritize its integration into all aspects of clinical research.
"From the communities we work in, to the employees we hire and the partners we deploy, DEI truly can and must be applied to all elements of Javara and organizations in clinical research for the benefit not only of our patients, but for all involved."